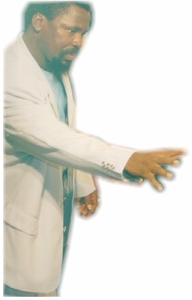 Rustenburg Christian Center
P.O. Box 1651
Rustenburg
0300
Contact persons: Martie or Trudy
Tel: (014) 597 1130 between 9:00 - 13:00
Fax: (014) 592 9095
Email: doxa@intekom.co.za
Jesus said that we would do even greater things than Him. Is it possible in this time and age we are living in? Yes! God has raised a man to perform miracles and wonders in His Name. Here you will find some information about prophet T.B. Joshua from The Synagogue, Church of All Nations in Lagos, Nigeria.
A report on my visitation to the Synagogue, Church of All Nation (August 2000).
From the book: Pastor W.F. Kumuyi and Prophet T.B. Joshua: Are both messengers of God?
Photo Galleries
Links: